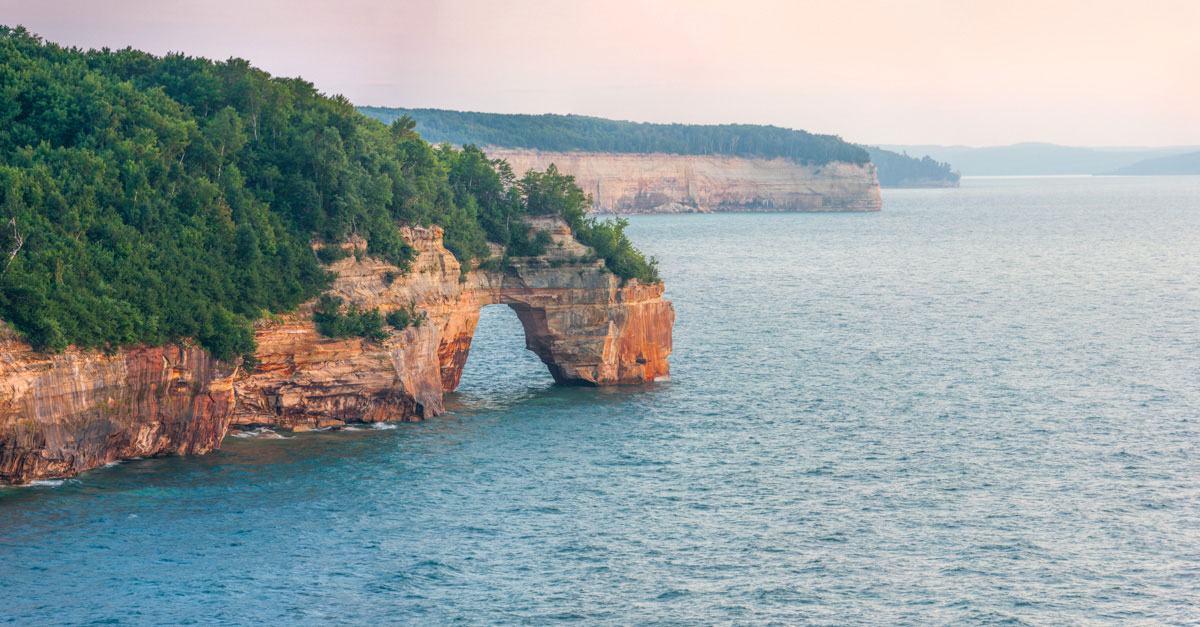 Lovers Leap, one of many landmarks in the Pictured Rocks National Lakeshore. Photo Credit: Craig Blacklock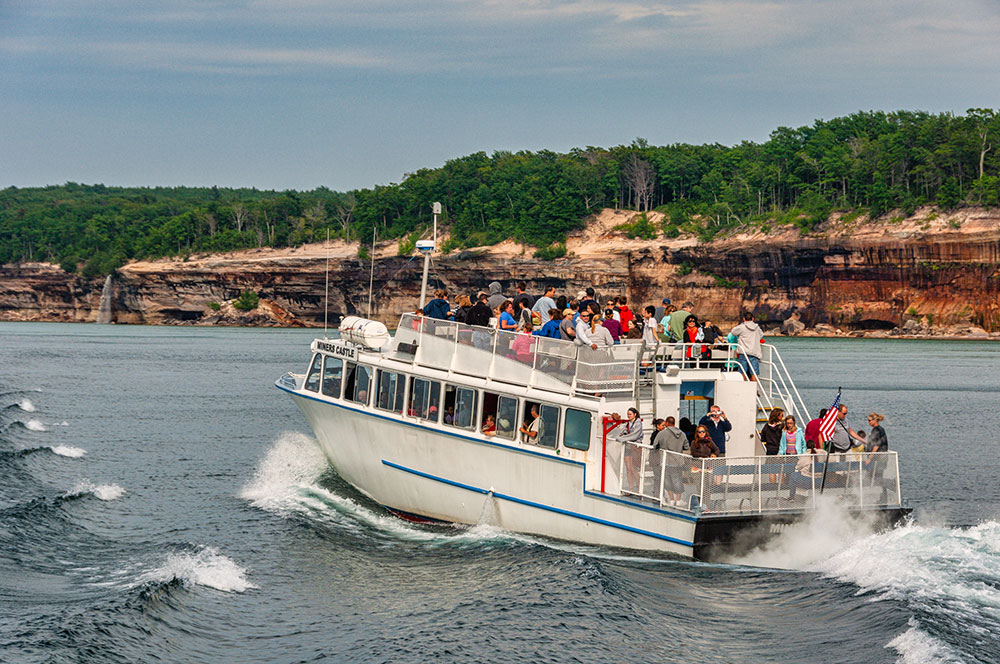 Photo Credit: Tim Trombley
Pictured Rocks Cruises offers three tours for guests: the Classic Cruise, the Spray Falls Cruise, and the Sunset Cruise. Each tour offers intimate views of the East Channel Lighthouse on Grand Island, Miners Castle, Lovers Leap, and other park landmarks. The Spray Falls Cruise takes passengers a little farther along the lakeshore to an additional waterfall – Spray Falls. Cruises vary from 2 to 3 hours long, each traveling approximately 40 miles round-trip.
Each tour departs in front of the Cruises' office and gift shop near the city dock in downtown Munising. Pictured Rocks Cruises is open daily from 8 a.m. until the last boat returns to their dock from mid-May through mid-October. For pricing, click here.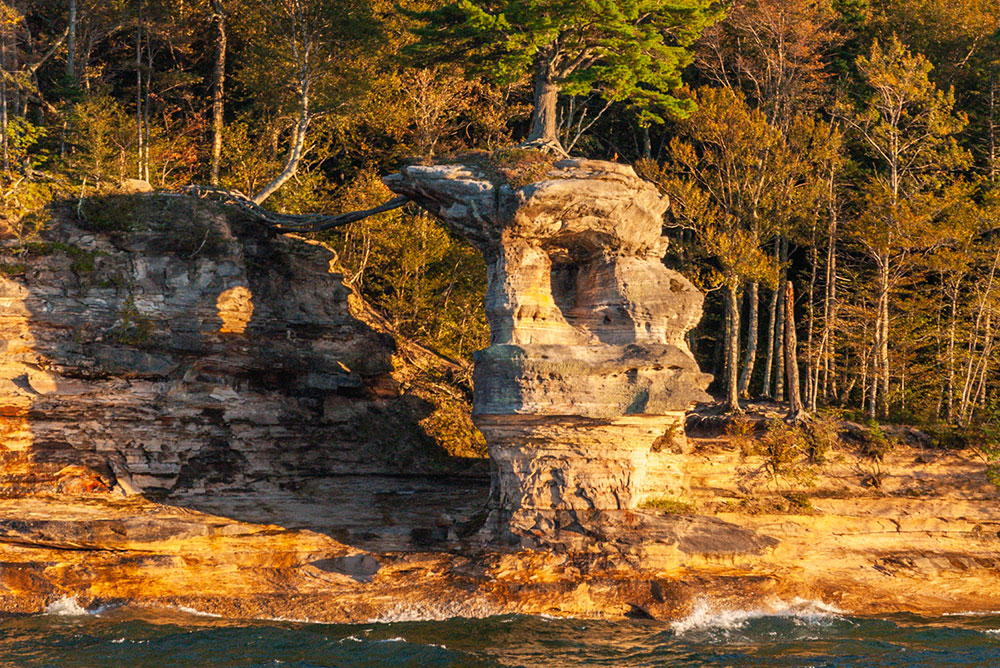 Chapel Rock. Photo Credit: Tim Trombley
Tours highlight the towering and colorful sandstone cliffs formed by ancient glaciers and minerals in groundwater that stained the face of the cliffs over time. You'll fall in love with the intimate views of unique rock formations, beaches, waterfalls, and sea caves along beautiful Lake Superior shoreline – in addition to the historic lighthouse!
10 Breathtaking Pictured Rocks Photos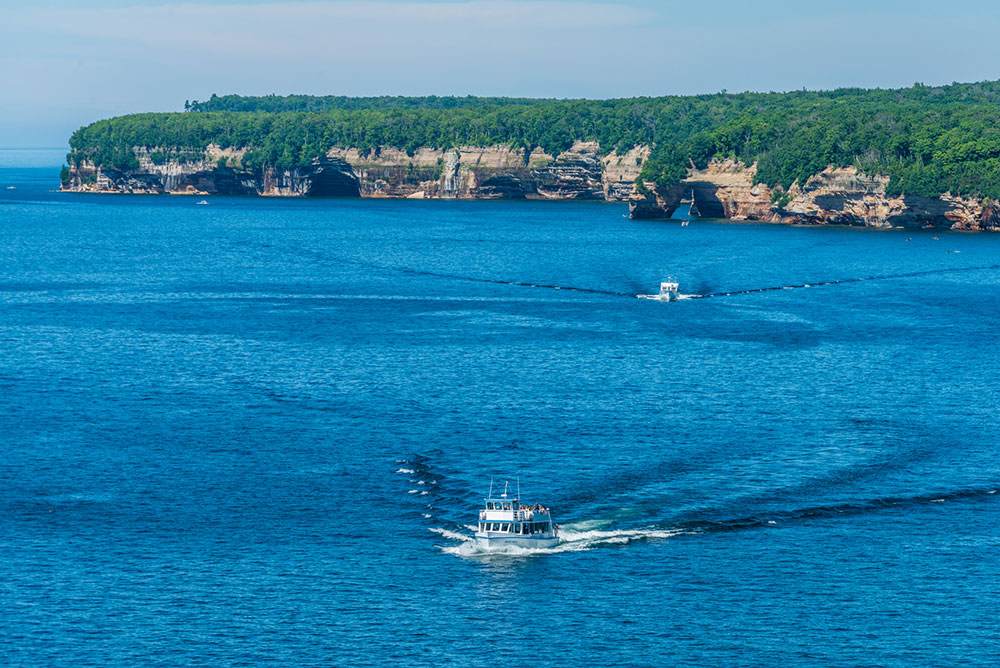 Photo credit: Tim Trombley
All vessels have enclosed, heated cabins, restrooms, stabilizers and sturdy seats for your comfort and safety. Each boat has an upper deck and a lower deck with bench seating. The benches are padded and have backs for added comfort. The upper deck is uncovered, while the lower deck is enclosed (and heated when needed) with large windows on both sides. Be sure to arrive early if you have a preference as seating is first come, first served.
A variety of sodas and bottled water are available for purchase ($1 each, cash only) aboard the boat. You are welcome to bring your own snacks and beverages. However, large coolers or alcoholic beverages are not allowed.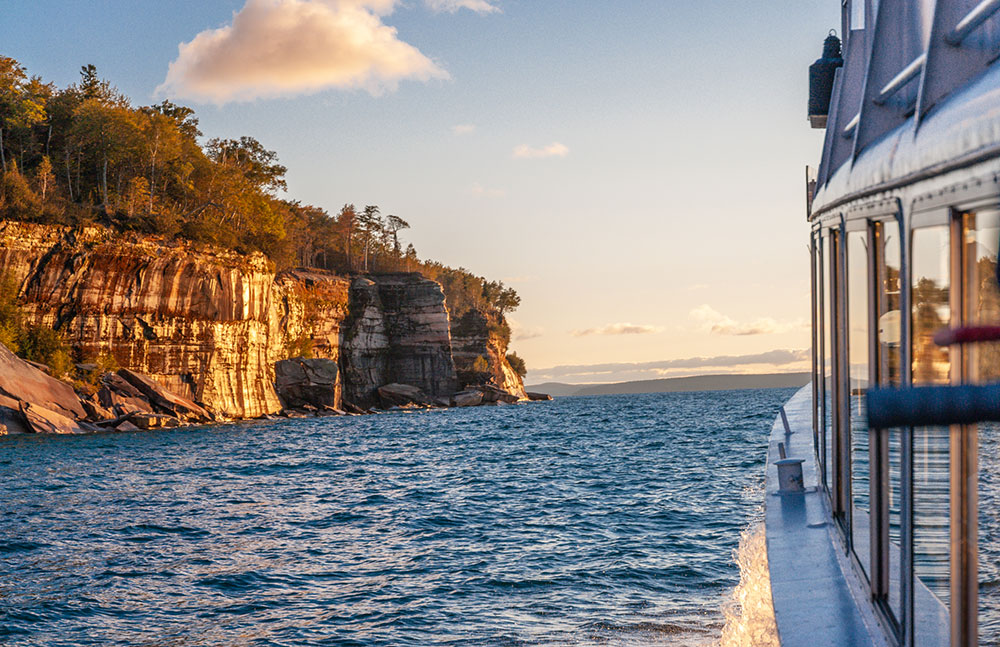 The setting sun reflects off the cliffs. Photo credit: Tim Trombley
Mid-afternoon to late evening is the best time of day to take photos of the Pictured Rocks. Later in the day, the sun is low and shines directly on the most colorful portions of the cliffs. Sunset cruises are especially popular with photographers because of the low, richly colored light, and the opportunity to photograph the sunset over Lake Superior. After the sun sets, the boat ride back to Munising is quite dark.
Explore Our Instagram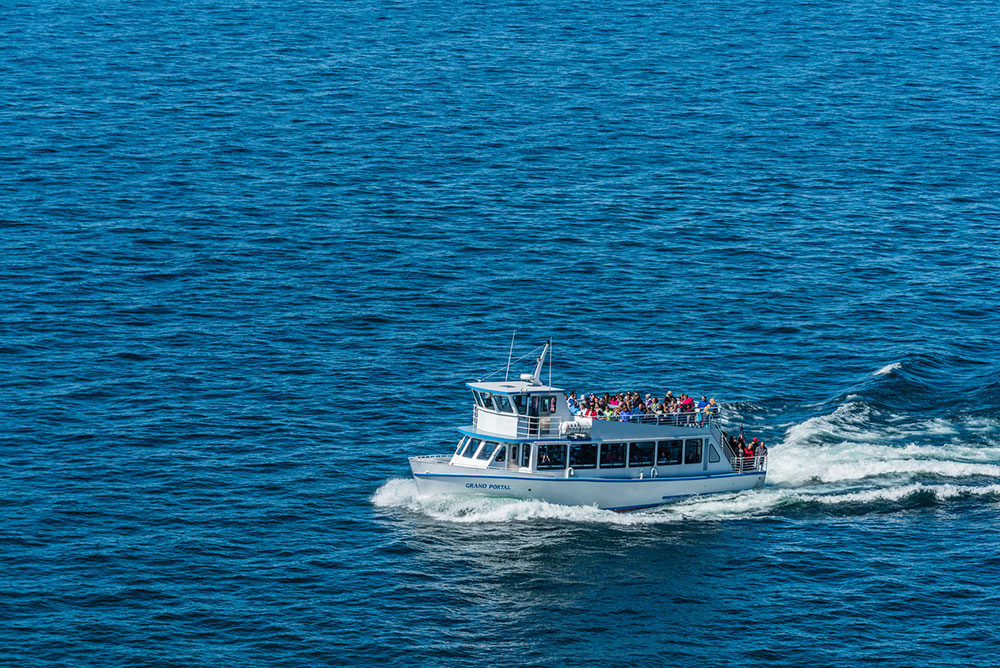 Photo credit: Tim Trombley
Onsite Kennels
Although your furry friends are not allowed on board, Pictured Rocks Cruises offers complimentary kennels for the duration of the cruise, which have been recently renovated and are now climate controlled. The kennels, which are located at the office and gift shop, are equipped with sliding locks, but you are welcome to bring your own padlock or purchase a padlock on site for additional security.
Safety Guaranteed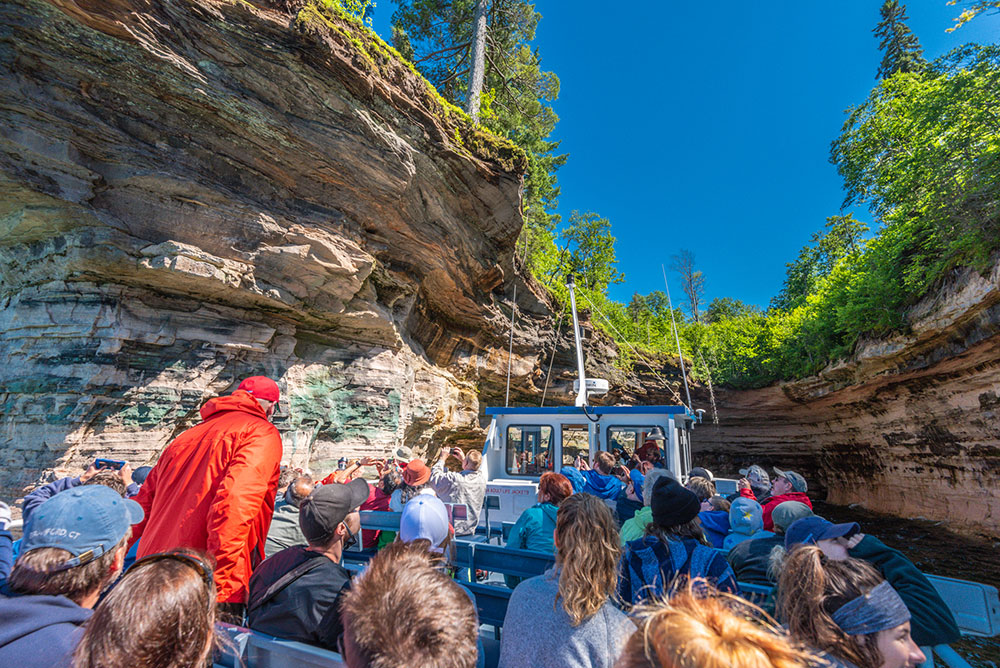 Passengers aboard a Pictured Rocks Cruises tour explore a cave. Photo credit: Tim Trombley
All of the boats are equipped with high-tech navigation equipment, including radar and ship-to-shore radios. On every tour, life-saving devices and instructions on their use are provided for every passenger on the boat. Twin diesel engines on every boat provide plenty of power, and new, state-of-the-art stabilizers provide a smooth ride. All regulations of the U.S. Coast Guard are strictly adhered to, so that your safety and enjoyment are assured. Adherence to these regulations is rigorously checked by U.S. Coast Guard staff during regular inspections.