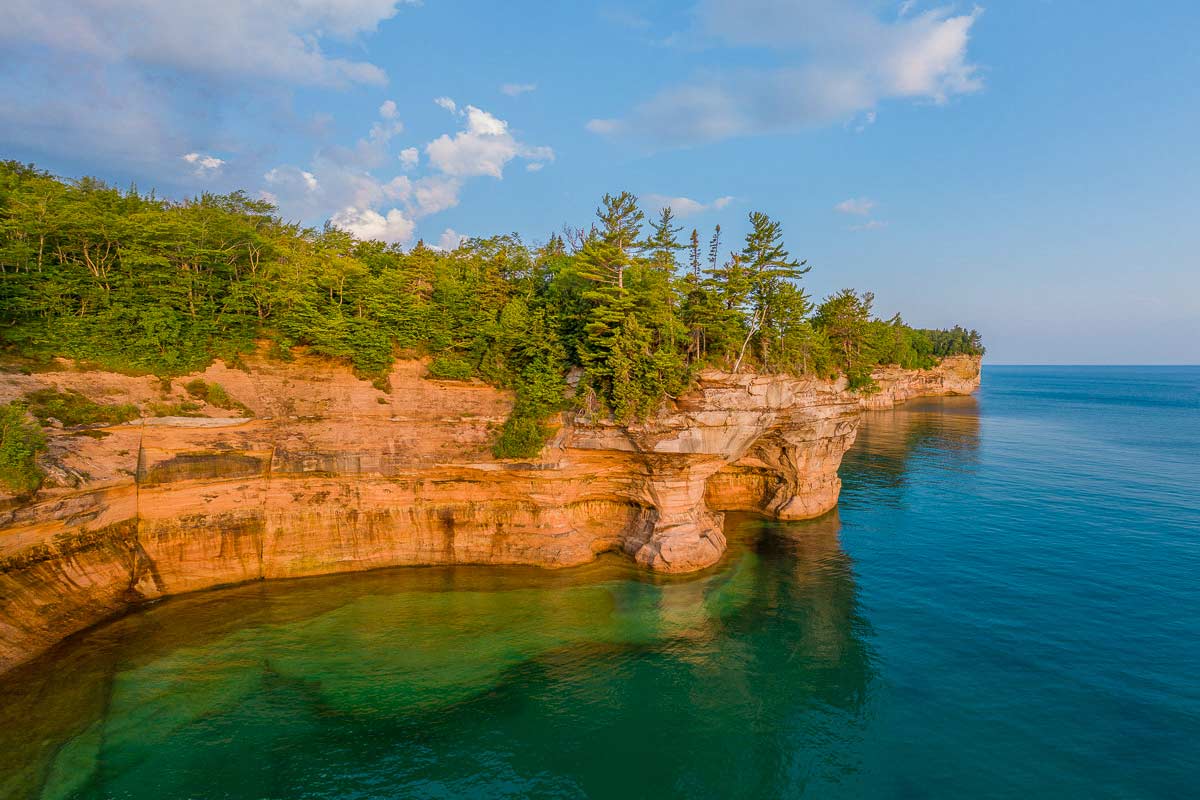 The Pictured Rocks National Lakeshore. Photo courtesy of Craig Blacklock.
North of the Mackinac Bridge in Michigan's Upper Peninsula is where you'll find breathtaking sandstone cliffs and formations, white sandy beaches, and dunes – sights unlike any you've seen before. Stretching for 42-miles along the prestigious Lake Superior shoreline, the Pictured Rocks National Lakeshore offers a unique landscape that's been carved out over time by what the Ojibwe called Gichigami or the "big sea." These 10 photos will not only take your breath away, but prove why Condé Nast Traveler called Pictured Rocks the most beautiful place in Michigan.
1. Grant Portal Point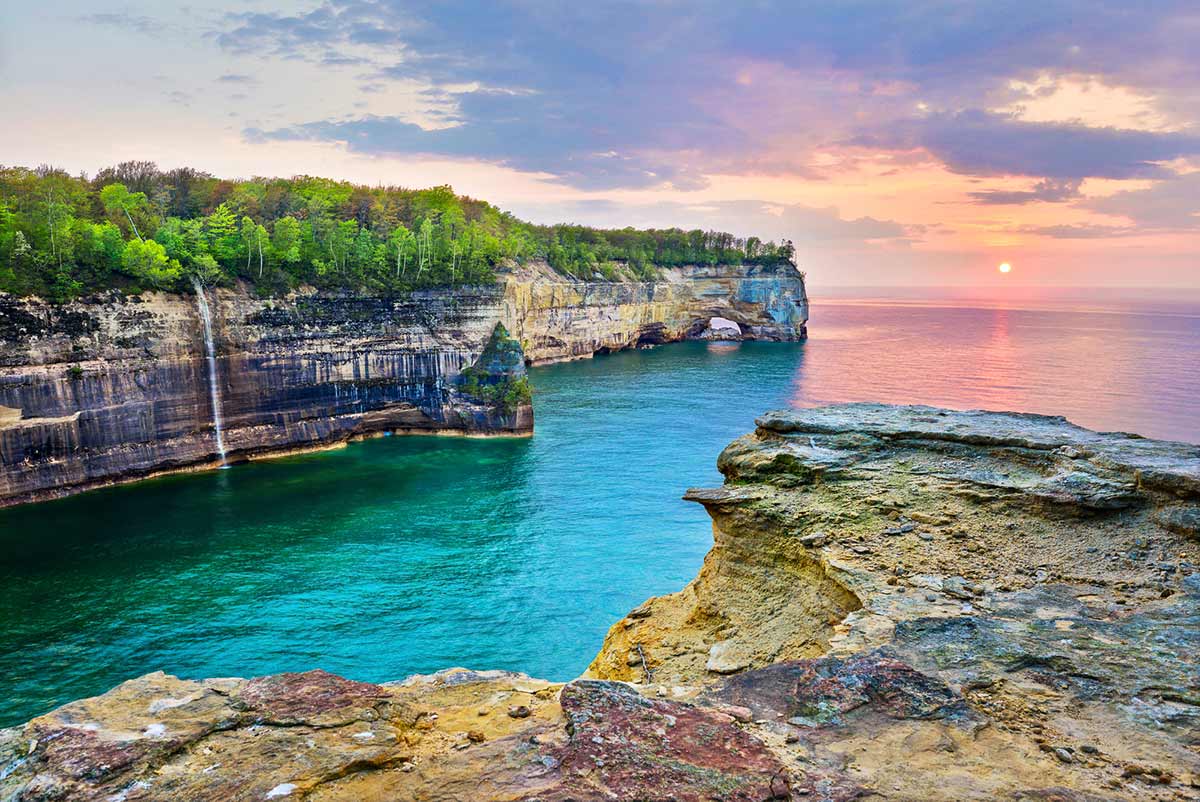 A beautiful sunset is captured at Grand Portal Point. Photo courtesy of Tim Trombley.
Grand Portal Point offers one of the best views in
Pictured Rocks park
. With plentiful caverns, unique formations, a suspended archway, and a massive rock face, Grand Portal and the point it creates along the lakeshore make you feel jarringly small if you choose to
slowly cruise
past. The rock walls captivate your eye and make you realize the scope of this great land. Grand Portal Point can also be viewed by water or hiking around the
Chapel Basin/Mosquito area
.
Learn More About A Sunset Cruise
2. Multicolored Sandstone Cliffs and Formations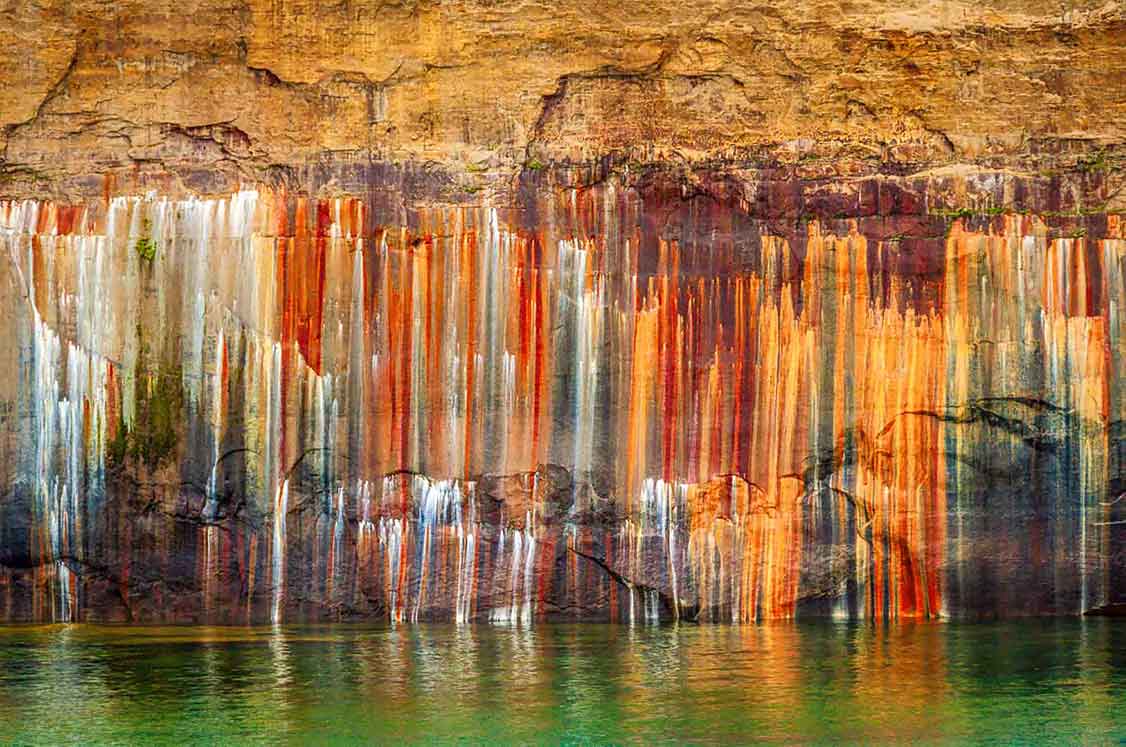 Mineral stain along the Pictured Rocks National Lakeshore. Photo courtesy of Craig Blacklock.
Pictured Rocks gets its name from the streaks of mineral stain that color the cliffs. Groundwater seeps out of the cracks and runs down the rock face giving it that gorgeous colorful pattern. Iron (red and orange), copper (blue and green), manganese (brown and black), and limonite (white) are among the most common color-producing minerals.
3. Spray Falls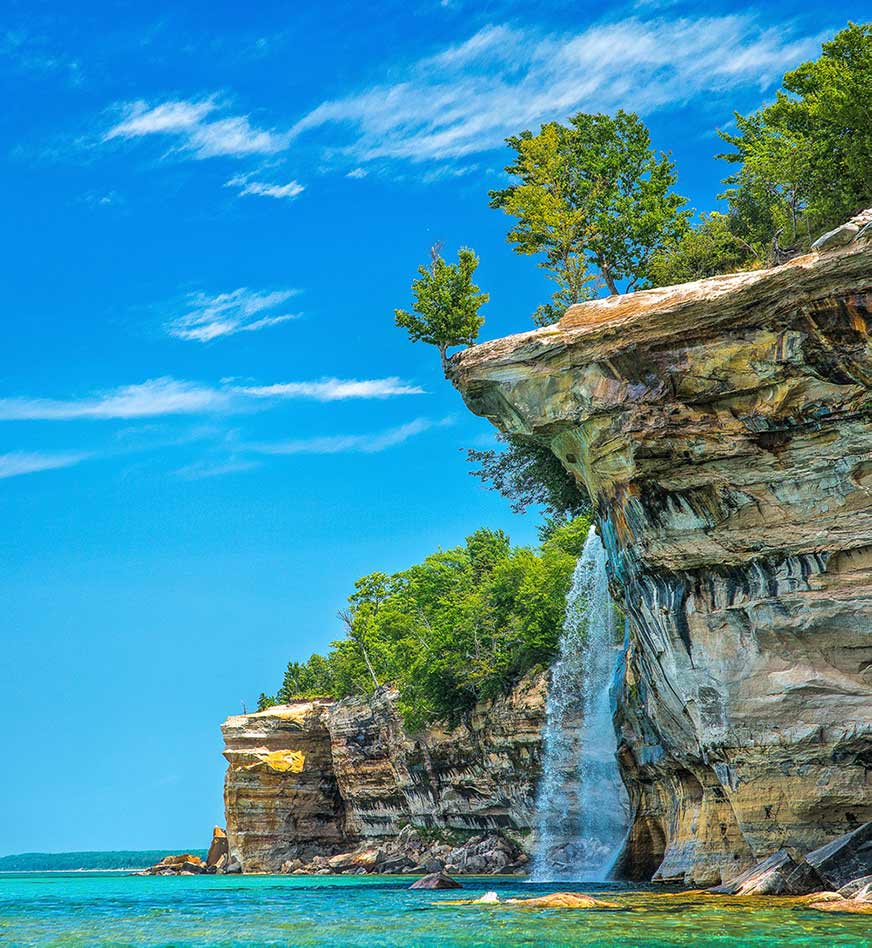 View from a Pictured Rocks Cruise of Spray Falls. Photo courtesy of Tim Trombley.
This remote waterfall is considered one of the most picturesque aspects of Pictured Rocks and is the grand finale on the popular Spray Fall cruise. If you're up for it, the North Country Scenic Trail offers a 9.6 mile round trip hike to the falls. Yet, it's definitely viewed best from a deck, as you can see both the water shoot roughly 70 feet over the Pictured Rocks cliffs directly into Lake Superior and the 1856 shipwreck "Superior" at the base of the falls. Some days, if you're lucky, you can even catch a rainbow.
4. Up Close and Personal
Kayakers paddle along the Pictured Rocks National Lakeshore. Photo courtesy of Pictured Rocks Kayaking.
Vibrant colors of mineral strain paint the face of the rocks and caves that surround the lakeshore. Since the minerals in Lake Superior stain the rock face of the cliffs, Pictured Rocks is best viewed from the water.
Kayaking
gives paddlers intimate views of the sandstone cliffs, sea caves and formations. In the summer,
guided kayak tours
are offered every day.
5. Miners Castle
Miners Castle, a popular landmark in the Pictured Rocks National Lakeshore. Photo courtesy of Tim Trombley.
Miners Castle is one of the most famous landmarks along the Pictured Rocks shoreline. Erosion over long periods of time created the interesting rock formation that gave this place its name. Unfortunately, in 2006, one of the turrets unexpectedly fell into the lake, so visiting while most of the structure still stands is a must!
Pictured Rocks Cruises and Pictured Rocks Kayaking both offer views of Miners Castle from the water, but the cliff is also accessible by land if you're up for a hike. Stairs and a steeper trail lead to the lower overlook adjacent to Miners Castle.
6. Cruisin' the Pictured Rocks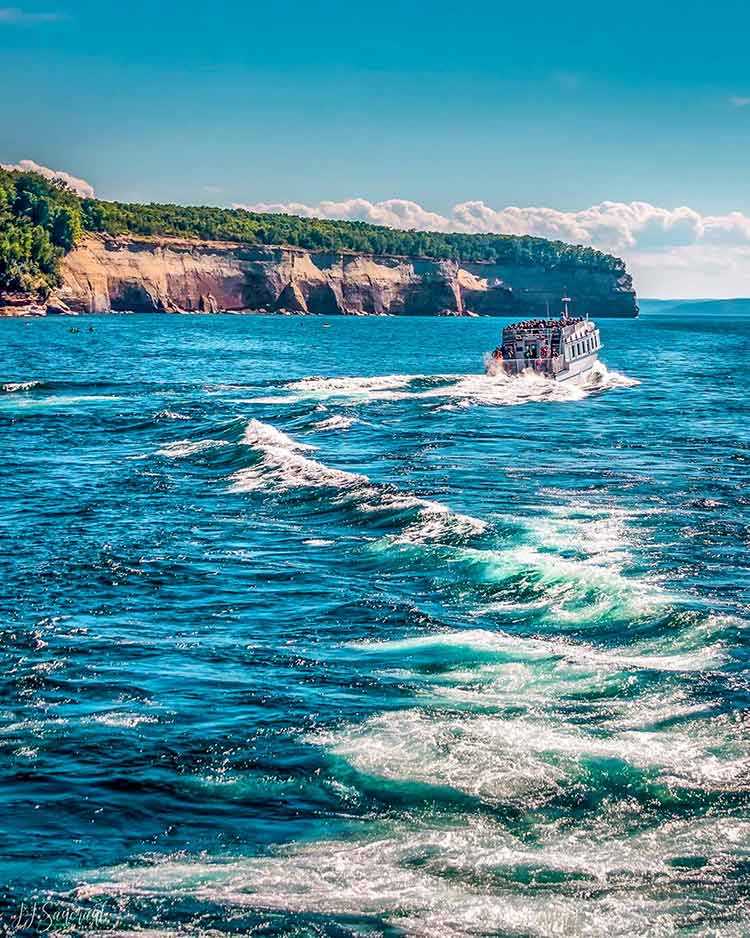 A Pictured Rocks Cruises boat passes large formations along the Pictured Rocks National Lakeshore. Photo courtesy of IG user @glundteigen.
Typically, the only thing that disturbs the clear waters of Lake Superior are the cruises that take you to the lakeshore. Launching from Munising Bay,
Pictured Rocks Cruises
offers three distinct tours from mid-May through mid-October. You can travel 32 miles round trip and view the brilliantly colored cliffs, sea caves, cascading waterfalls and pristine beaches.
7. Lovers' Leap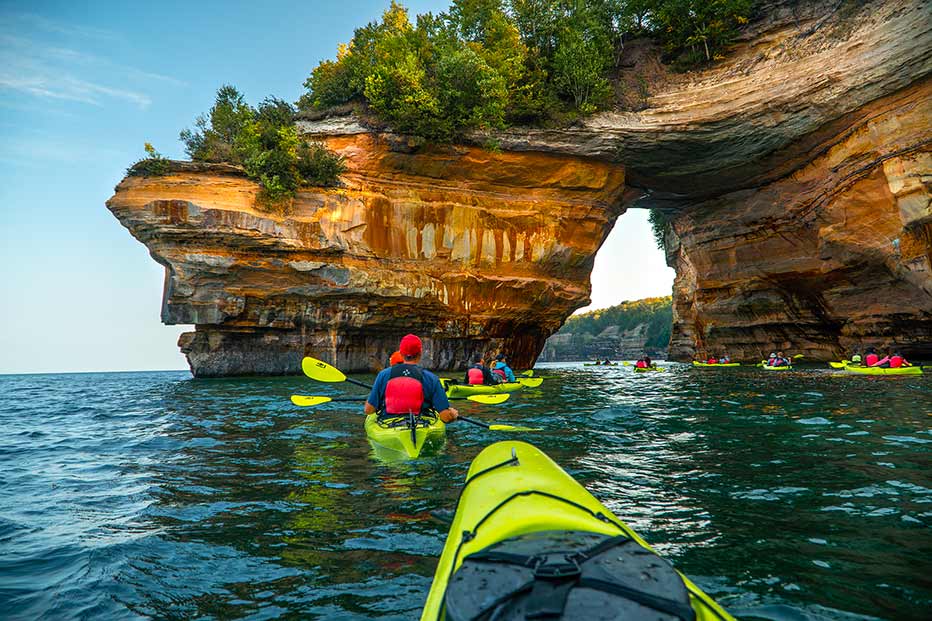 Kayakers paddle near and under Lovers' Leap. Photo courtesy of Pictured Rocks Kayaking.
Most
kayakers'
favorite feature is Lovers' Leap, an imposing arch of rock that extends from the Pictured Rocks shoreline to an outcrop located directly in Lake Superior. Lore has it that a couple displayed their love for one another by jumping off the top of this rock arch together. Of course, please do not attempt this – the water at the base is only a few feet deep.
8. Bridalveil Falls
Bridalveil Falls. Photo courtesy of Craig Blacklock.
Bridalveil Falls is a striking, seasonal waterfall that you'll often see featured on postcards. It's a sight that's definitely best viewed from the water, as it can only be seen while on a
cruise
or at a distance from trails at the lower Miners Castle overlook or from the west end of Miners Beach.
9. Chapel Rock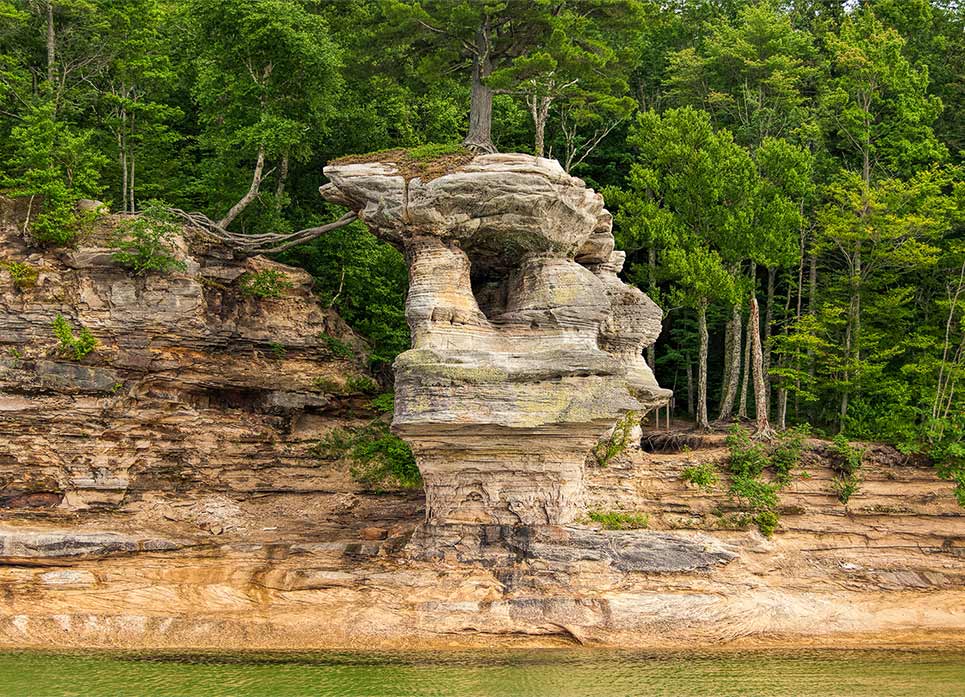 Chapel Rock. Photo courtesy of Tim Trombley.
This stunning remnant of
Cambrian age
sandstone was carved by
Lake Nipissing
high water some 3,800 years ago and was dubbed Chapel Rock by French explorers. There once was an archway connecting the rock to the mainland, but it collapsed in the 1940s. The
lone white pine
growing from atop Chapel Rock is estimated to be about 250 years old.
If the spectacular colors of Pictured Rocks in the summer aren't enough for you, then you have to visit in Autumn. The scarlets, yellows, burgundies, oranges, and violets of the trees that line that clifftops enhance the scenic beauty of Pictured Rocks into something truly extraordinary.
What are you waiting for? Kayak, cruise, or hike to take in the sights along Lake Superior's shoreline now.
Follow us on our Instagram for even more breathtaking views: @PicturedRockCruises | @PicturedRocksKayaking.