Pictured Rocks Cruises, LLC is an authorized concessionaire of the National Park Service Department of the Interior. For over 50 years, our summer cruises have been guiding visitors to the Pictured Rocks National Lakeshore, a top Michigan vacation spot. Our boat cruises are 2 1/2 to 3 hours and will travel into and alongside the most visually stunning 40 miles of shoreline on the Great Lakes! We offer 3 distinct Michigan cruises:  the Classic Cruise, the Spray Falls Cruise, and the Sunset Cruise. Each cruise departs from the Munising, Michigan City Dock. The crew will assist in ticketing, safety instructions, and other needs. Our day cruises are narrated by the captain, who will inform you of a brief history of the tour boat, local area facts, and Michigan points of interest on this national park tour. If you are looking for unique vacation ideas, choose Pictured Rocks Cruises' scenic boat tours as your Michigan travel destination.
Ready for more adventure? Check out our other Pictured Rocks attractions!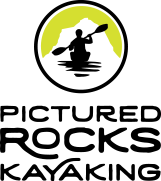 Pictured Rocks' only off-shore kayak launch
Paddle less, explore more.
The only kayak tour in Munising that shows you the best of the park with only 2 hours of total paddling. Skip the rigorous work of paddling from shore by cruising aboard our 56-foot passenger vessel and launching your kayak right where the most notable scenery begins. Because our launch boat follows you along as you paddle, you'll always be within a reasonable distance of restrooms and emergency help. Perfect for everyone including families, seniors, or people with disabilities.
Visit PaddlePictureRocks.com