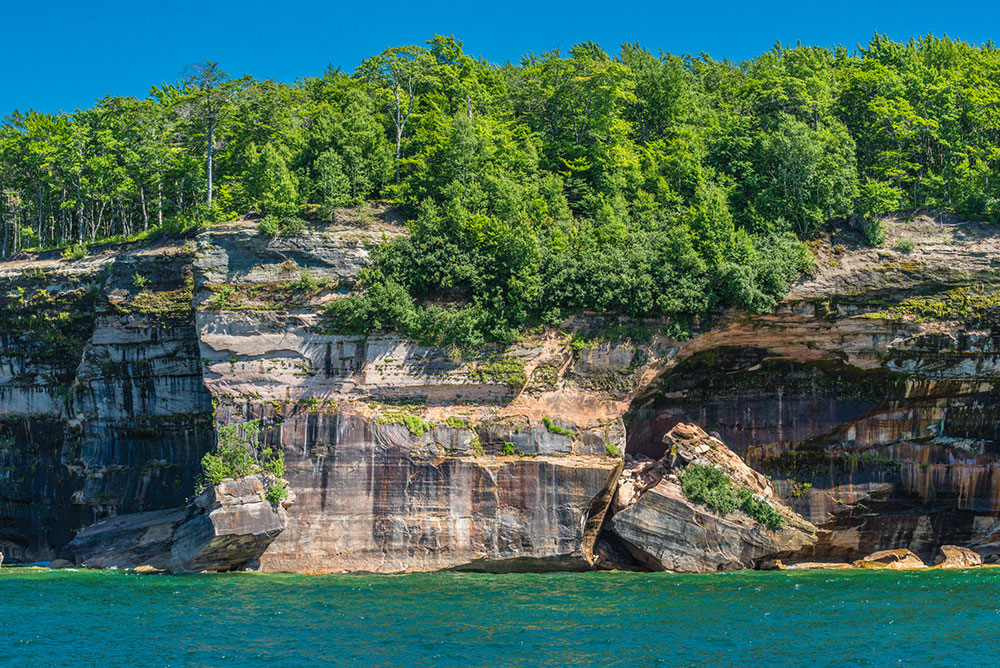 The National Lakeshore in Summer. Photo courtesy of Tim Trombley.
Dazzling waterfalls. Scenic overlooks and beaches. Unforgettable boat cruises and kayak trips. Stunning sandstone formations and dunes. When planning a trip to Michigan's Upper Peninsula, you'll discover there's plenty of exciting things to do in the
Pictured Rocks National Lakeshore
. Whether you have young children or seniors in your group, Pictured Rocks is a perfect trip for the entire family.
What is the Pictured Rocks National Lakeshore?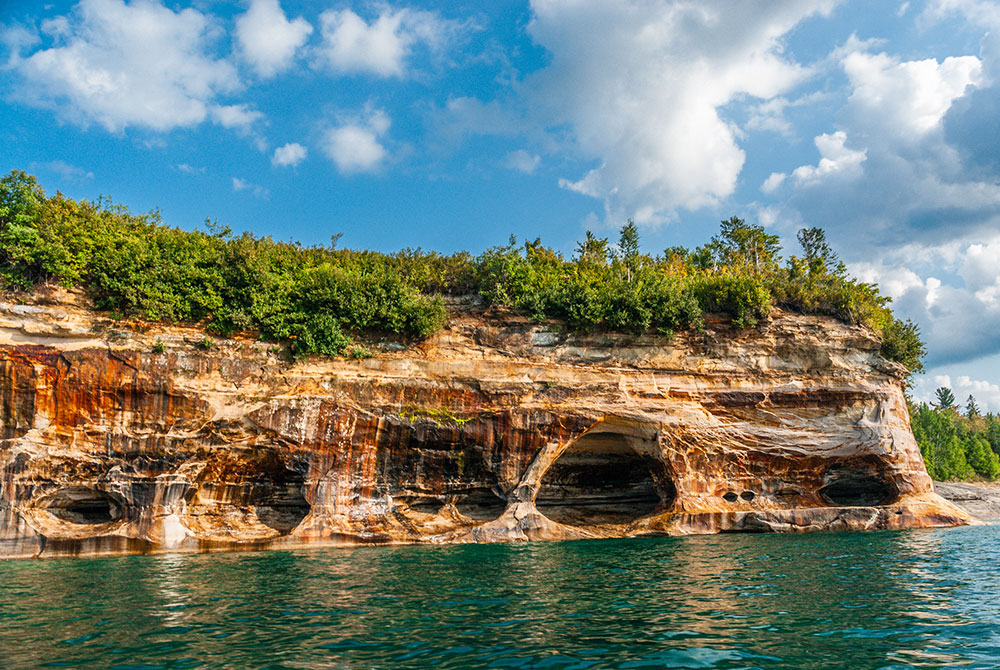 The Colors of Pictured Rocks. Photo courtesy of Tim Trombley.
The Pictured Rocks National Lakeshore extends 42-miles along the gorgeous shores of Lake Superior and offers miles of beaches and enormous sand dunes, spectacular waterfalls and lighthouses, and over 100 miles of trails that lead to remote lakes, streams, and serene forests. Designated the first National Lakeshore in the United States, the park's name derives from minerals that stain the rock face of sandstone cliffs that tower 50 to 200 feet along miles of shoreline. Gorgeous hues of red, blue, white and green from minerals like iron, copper, manganese, and limonite, stain the sandstone and illuminate off the magical turquoise water.
Check out these top family-friendly activities when exploring the Pictured Rocks National Lakeshore:
Get on the Lake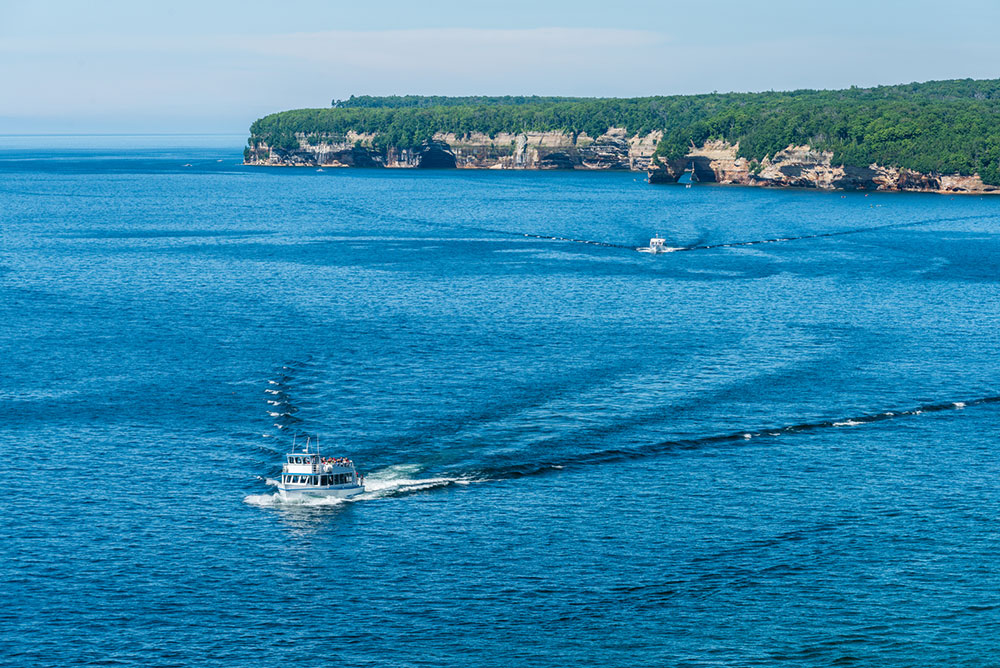 Two Pictured Rocks Cruises on Lake Superior. Photo courtesy of Tim Trombley.
The best way to see the Pictured Rocks cliffs and sandstone formations is by boat. Visit
Munising
, the park's western gateway, and climb aboard the
Pictured Rocks Cruises
or book a guided kayak tour with
Pictured Rocks Kayaking
where you'll see the most visually appealing parts of the park.
Pictured Rocks Cruises: Amazing Sights for Any Age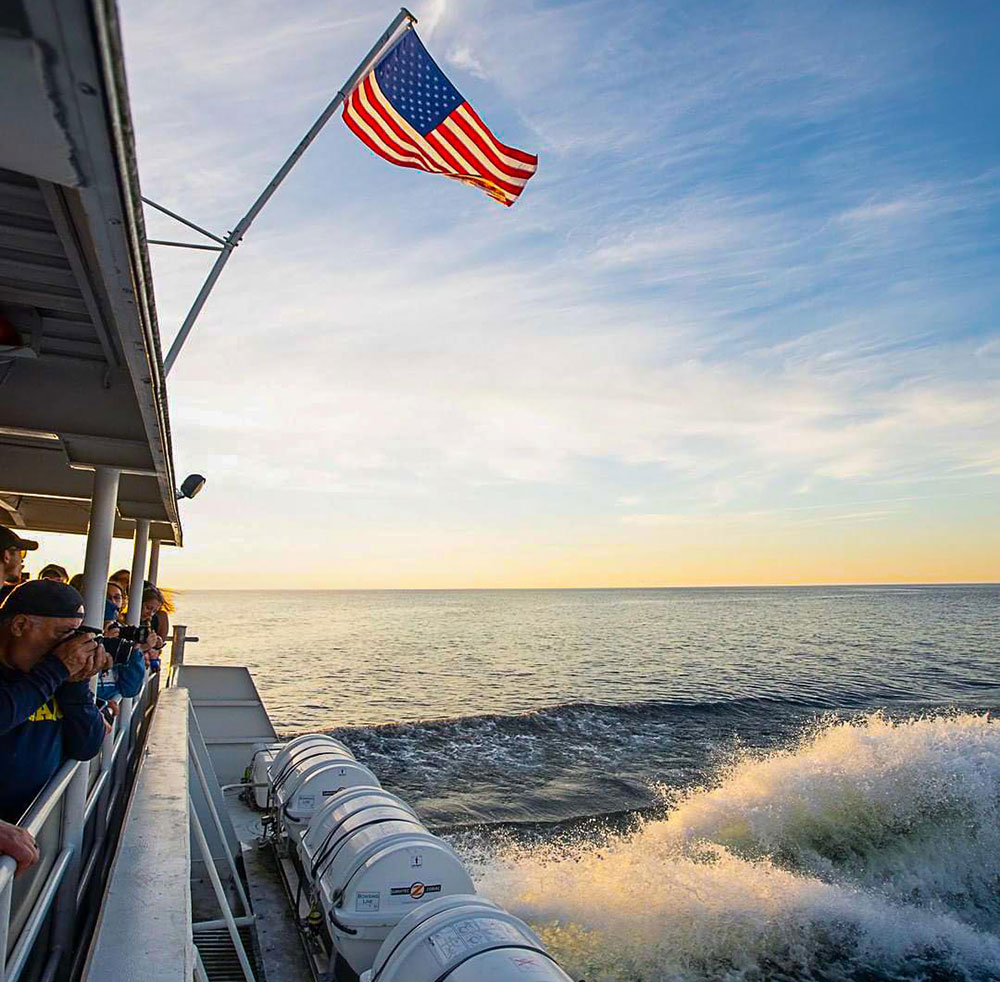 Courtesy of @picturedrockscruises
Pictured Rocks Cruises is an authorized concessionaire of the
NPS
and has offered tours of the cliffs and sandstone formations for over 50 years. The Cruises
offers three narrated tours
for guests: the Classic Cruise, the Spray Falls Cruise, and the Sunset Cruise. The high-speed catamaran used for Spray Falls Cruises offers the easiest indoor
accommodations
for wheelchairs. All tours are great for kids, as tickets for children 6-12 are $10 and those for 5 and under are just $1.
Pictured Rocks Kayaking: Up-Close Adventure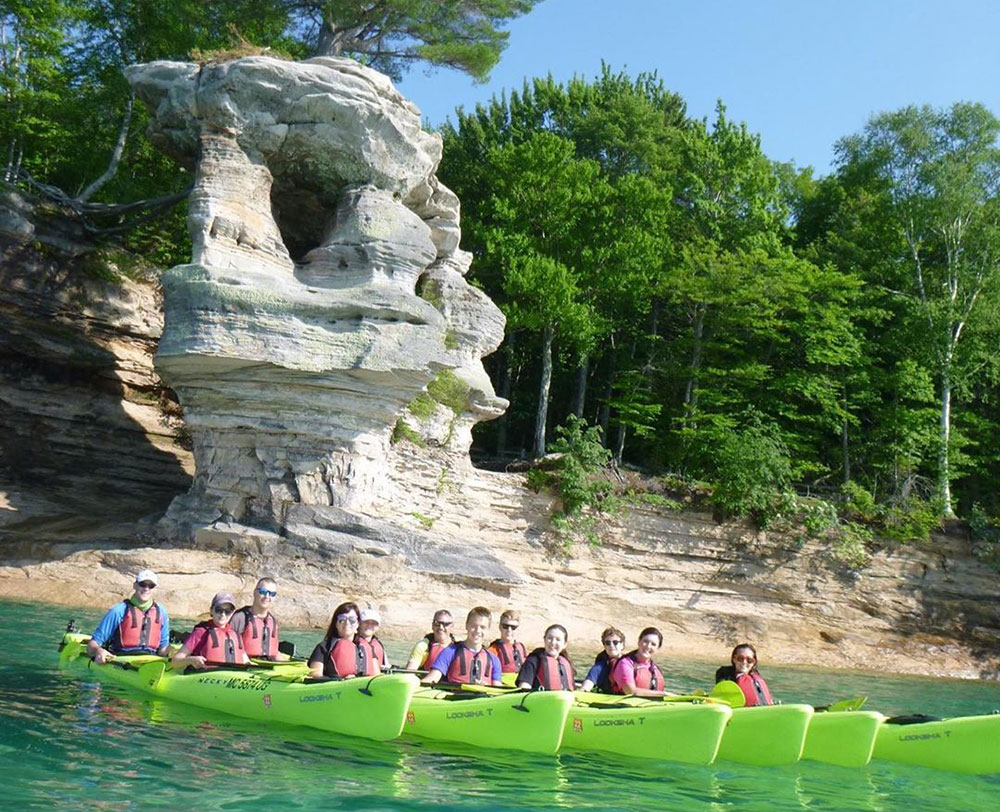 A family vacation. Photo courtesy of @PicturedRocksKayaking.
If you're looking for an activity that's more physically demanding but offers similar sights,
book a trip
with Pictured Rocks Kayaking, the only kayaking outfitter in the area that provides offshore launching. Guests with Pictured Rocks Kayaking travel along the lakeshore aboard a kayak-launching vessel and are set afloat where the most notable scenery in the park begins. Since the launch boat follows you as you paddle, you'll always be within a reasonable distance of restrooms and emergency help. It's a fantastic way to bond with any family members that are comfortable paddling a kayak!
Chase Waterfalls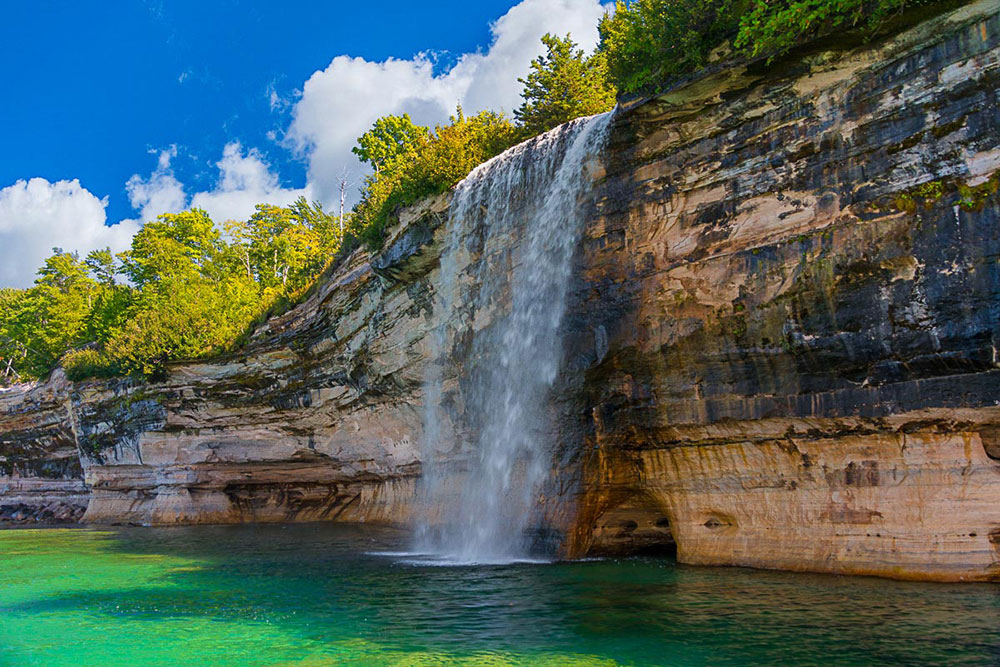 Waterfall as seen from Pictured Rocks Cruise. Photo courtesy of Craig Blacklock.
There are over 20 waterfalls found in the Munising area, with
several located in the Pictured Rocks National Lakeshore
! While
many of the waterfalls
are accessible by a short walk – making them especially easy for seniors or small children to get to, others are deeper in the park and require more effort. Popular waterfalls that have easy access are Munising Falls, Alger Falls, Miners Falls and Wagner Falls. After obtaining a waterfall guide and map at the
Fuzzy Boyak Welcome Center
in Munising, you'll be all set for a tranquil adventure in the pristine area.
Check out the Sights
Hiking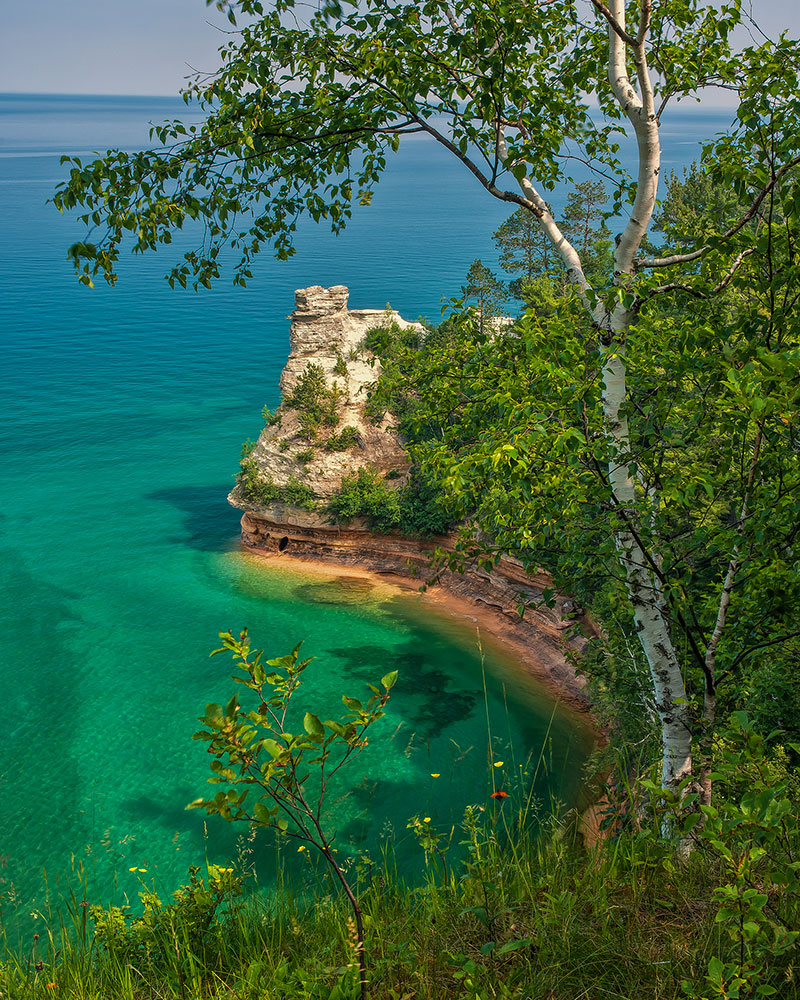 Hiking to Miners Castle. Photo courtesy of Tim Trombley.
Walk one of many
self-guided nature trails
in Pictured Rocks National Lakeshore and see a vast array of nature and wildlife. The half-mile accessible boardwalk at the
Sand Point Marsh Trail
meanders through cattail marsh, open bog, spruce-tamarack swamp, and white cedar wetlands. This trail is close to Sand Point Beach – a popular swimming area that also has several picnic tables and metal fire rings where families may barbeque.
Another must see destination is Miners Castle, perhaps the most famous landmark along the Pictured Rocks shoreline that can be seen by water and land. Erosion over time created the interesting rock formation that give this place its name. Trails to all overlooks are paved and easy to reach.
Miners Beach, which is near Miners Castle, offers gorgeous views of Lake Superior and the Pictured Rocks as well. There's also a wheelchair accessible boardwalk that leads from the parking lot to the staircase down to the beach.
Scenic Drive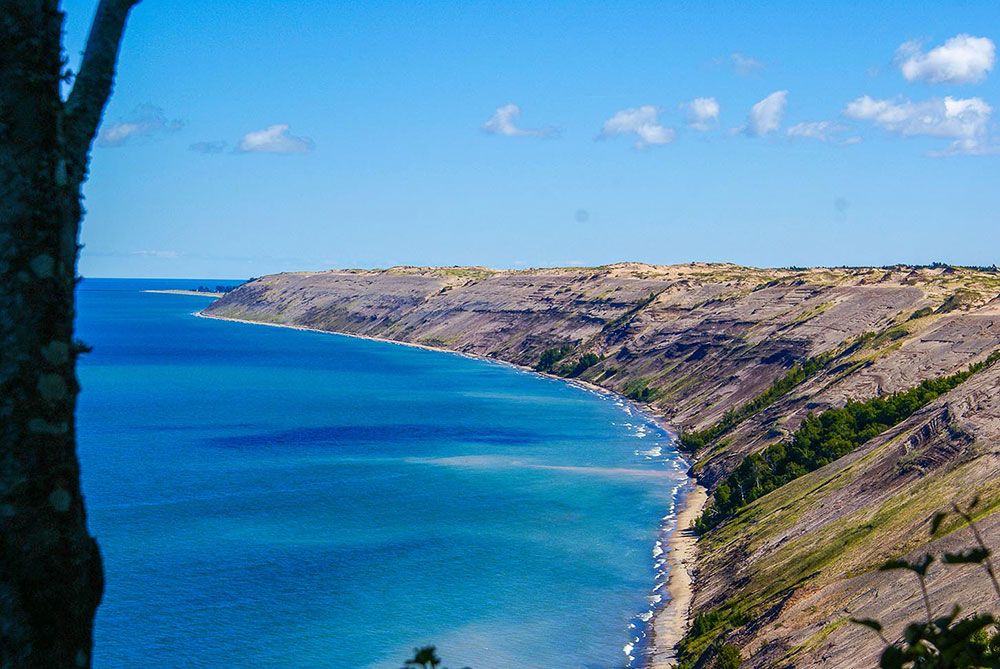 Coast at Log Slide Overlook by shatteredhaven on Flickr.
Another popular area to visit with the family in the Pictured Rocks park is the
Log Slide overlook
, where you can see enormous sand dunes that tower atop the 300-foot high Grand Sable Banks. These magnificent sand dunes are located just west of Grand Marais, the park's eastern gateway. Just a suggestion, though – make sure to take the scenic drive along H-58 east from Munising to Grand Marais.
Don't miss out on the adventure! Kayak, cruise, or hike to take in the sights along Lake Superior's shoreline now.
Like us on our Facebook for the latest updates and views: Pictured Rock Cruises | Pictured Rocks Kayaking.